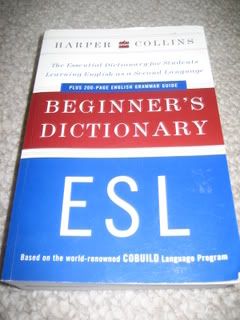 Hubby was watching news last night about some Chinese Nationals in Maine who are teaching Chinese language to Mainers. As usual, he asked me why I won't do that. Why would I? There is no requirement for Filipino language (
Tagalog
) tutors around here. [Trust me, I looked already.] Why would there be? There are only few Mainers who actually know where the Philippines is. There are not a lot of Mainers who think that
Tagalog
will be useful to them. And there are only a handful of Mainers who actually need to learn the language like those who are married to Filipinos (
Pinoys
) and/or their own kids. But with my own observation among
Pinoys
here in the US, that is not much of a problem.
Teaching
Tagalog
to American kids or husbands alike is easy because,
Pinoy
mothers/wives will always mumble
Tagalog
words every now and then when they are talking to their kids/hubbies especially if they are giving them a hard time. Trust me, when Pinoy mothers are having a problem with their kids/husbands they will always express their anger, frustrations and sentiments in their own language and kids/husbands will always pick them up. They know when mommy/wifey is in a bad mood because… she is saying, mumbling and hollering those weird words again. And that I believe is a
transition
that every Pinoy abroad has to go through. So, I don't think they really need a proper school or an accredited tutor to learn the language? Trust me, one way or another, they will learn it - the hard way.
With my Hubby, I have tried to teach him some
Tagalog
phrases [like
Mahal kita
(I love you),
Maganda ka
(You're beautiful) and
Kelangan mo ba ng pera
? (Do you need money?)] but he keeps forgetting them specially the last one. (Hehehe) He would struggle so hard with the pronunciation and would eventually give it up altogether.
Oh well, there are few words that he knows and that I think will equip him enough if we decided to go back to the Philippines for a vacation but trust me… those words will surely get him into trouble back home. What do you expect? The only words that he learned by "heart" are… Tanga (stupid), Gago (foolish), Tamad (lazy), mabaho (stinky) Maligo ka (Take a bath). However, I didn't teach him the other you-know-what-words-that-Pinoys-instanteneously-utter-when-they-are-really-really-pissed-off because I reserve that "one" for myself for those not-so-good-moments that I mentioned above... so that he wouldn't react so bad when I can't control myself to mumble it. Wink*